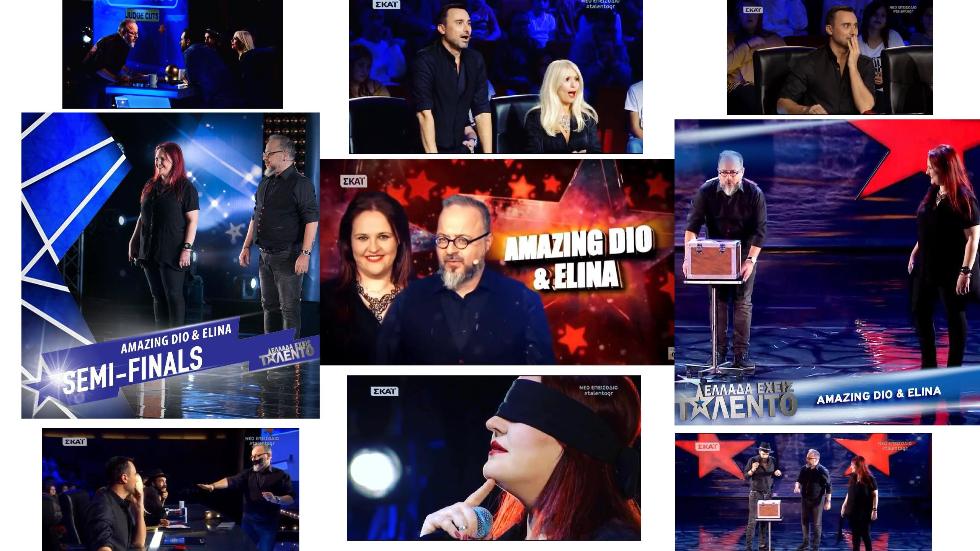 WHAT PEOPLE SAY
"Η δική σου παρουσίαση Amazing Dio είναι η καλύτερη που έχουμε δει στο "ΕΛΛΑΔΑ ΕΧΕΙΣ ΤΑΛΕΝΤΟ". Απ ολους τους μάγους που έχουμε δει , είσαι αυτός που, με μεγάλη διαφορά από τον δεύτερο, μπορείς να πουλήσεις καλύτερα αυτό που παρουσιάζεις και αυτό είναι η μαγεία"
Σάκης Τανιμανίδης: Παρουσιαστής

" Είσαι πάρα πολύ μπροστά ! Είσαι όντως ο καλύτερος μάγος που έχουμε δει στο "ΕΛΛΑΔΑ ΕΧΕΙΣ ΤΑΛΕΝΤΟ" ! Κάθε φορά που βγαίνεις είναι απόλαυση να σε βλέπουμε !"
Γιώργος Καπουτζίδης: Παρουσιαστής
"Κάθε φορά που σε βλέπουμε στο "ΕΛΛΑΔΑ ΕΧΕΙΣ ΤΑΛΕΝΤΟ" μας μαγεύεις με το ταλέντο σου ! Μπράβο !"
Μαρία Μπακοδήμου: Παρουσιάστρια
Αmazing Dio is a Comedy Magician ,Musician ,Mentalist ,Paranormal & Psychic entertainer based in Greece.
Amazing Dio had a fascination with 'mind-magic' and the art of mind reading effects, mind control methods and, in particular, thought transference. Studying the work of American magician and inventor of mental and psychic conjurers' effects, Theodore Annemann, who had the real name of Theordore John Squires but liked to be called Ted,Amazing Dio found his magical calling. This branch of magic had already been around for a long time ,Among magicians, the mentalism performance that was cited as one of the earliest on record, was by diplomat and pioneering, sleight-of-hand magician, Girolamo Scotto back in 1572.
Amazing Dio has been featured numerous of times on Greek TV (2005 - 2017) and has travelled all Europe learning the art of mind deception , he has been 2 times at Blackpool magic convention following the masters of magic & mentalism as R.Osterlind & Banacheck and so many others. Αmazing Dio performs this form of magic in private functions, corporate groups, restaurants,theaters ,weddings and club lounges.
Αmazing Dio as an consultant in magic has created magic for the show of famous Greek comedian actor Marko Seferli , he created & directed the show "Real Fear " for the winner of "the Next Geller" Tv show in Greece , mentalist Zakris and also created the magic for the videoclip of famous Greek singer Pano Mouzouraki.
At 2011 Amazing Dio was Invited to give the 1st prize award for special Film effects & Innovation of Greek Film Academy at the House of Letters and Arts of the Onassis Foundation.For the first time in Greece a Mentalist is invited at the Awards of Greek Film Academy .
2014-2015 Amazing Dio presented 2 mental magic shows " Mind Games" and "6th Sense " at El Convento Del Arte in Athens , for 23 weeks in a row , a performance that went a smash hit , a performance that won the hearts of the Athenians and took exceptional reviews from the media. Next year he performed again at El Convento his new show "Mind Games 2" , a performance that went a smash hit for second year !
Now it's a record breaking show of over 70 in a row weeks and record breaking with more than 4000 tickets for a mental show in Greece.
Also 2016 Amazing Dio presented his "Mind Games" at TEDx & Athens Science Festival !!
Amazing Dio is an active member of the Greek magic community with magical performances in theaters like Xytirio theater & Gyalino theater , takes place voluntarily for young children to charitable performances for " Xamogelo tou paidiou " ," MakeAwish "and" " Children's villages SOS "and actively participates in every magic activity that is developed by the Greek magic community. Amazing Dio is the owner of Streetmagic Shop in Athens. Amazing Dio is a member of IBM (International brotherhood of magicians) & IMS ( International Magicians Society )
AMAZING DIO & ELINA TELEPATHY ACT
Amazing Dio & Elina have fascinated audiences with a unique blend of telepathy and ESP , a mind boggling two person telepathy act. Today, there are only a few couples in the world who have developed this rare ability.
They are part of a lineage that spans more than 150 years.
In 2017, they decided to take part in the biggest talent show in Greece, "Greece Got Talent"
After 3 months, 3 different performances and over 1200 contestants, Amazing Dio & Elina have astounded audiences and they became the only mentalism act finishing at Semi-finals and bewitched and befuddled not only the millions of viewers at home but also the judges Giorgo Kapoutsidi, Maria Mbakodimou, and Saki Tanimanidi
The whole world was puzzled by Amazing Dio & Elina.
Amazing Dio & Elina were the first non-solo magic act to finish in the semi-finales of Greece Got Talent 2017
They progressed further than any other act that did not receive the Golden Buzzer
They progressed further than any other mentalist act in the show's history.
In 2018, they decided to take part for a second tinme in the biggest talent show in Greece, "Greece Got Talent" became again the only mentalism act finishing at Semi-finals
"Your MIND GAMES Are Marvelous"
Marc Salem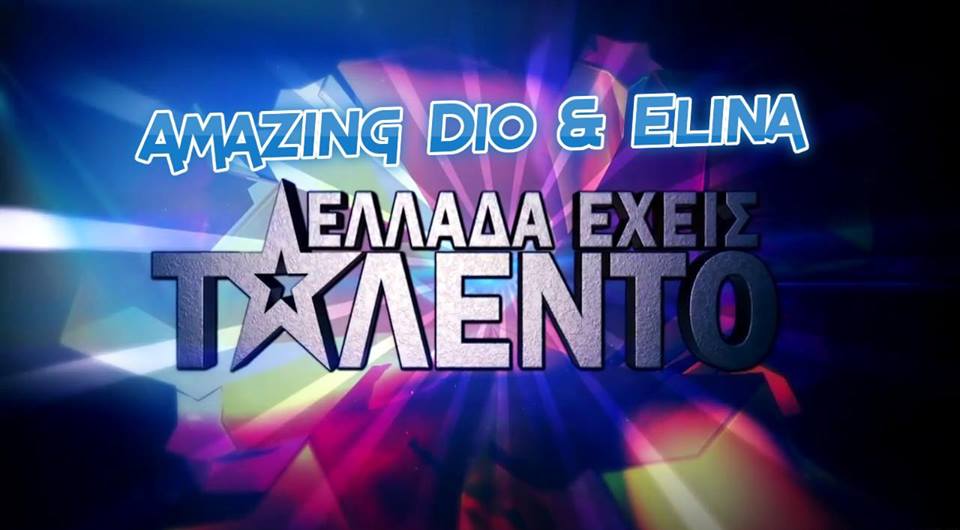 Το act μας στον ημιτελικό του «Ελλάδα έχεις ταλέντο» που άφησε άφωνο τον Γιώργο Καπουτζίδη !
Η έκπληξη που συγκίνησε τον κριτή του σόου !
Η φωτογραφία του Καπουτζίδη από τα παλιά και το λαχείο των 120 εκατ. δραχμών !
Γιατί η μαγεία πρέπει να προκαλεί συναισθήματα !